Outsourcing IT services can be an excellent way to boost the efficiency and productivity of your business.
By delegating IT tasks to external experts, you can free up internal resources, reduce costs, and take advantage of cutting-edge technologies and skills.
In this blog post, we will explore the key advantages of outsourcing IT services and explain why managed IT is the right choice for your business.
Why Do Businesses Outsource IT Services?
The need for quality managed IT services has risen so much in recent years that the market is projected to grow at a CAGR of 12.6% over the next seven years.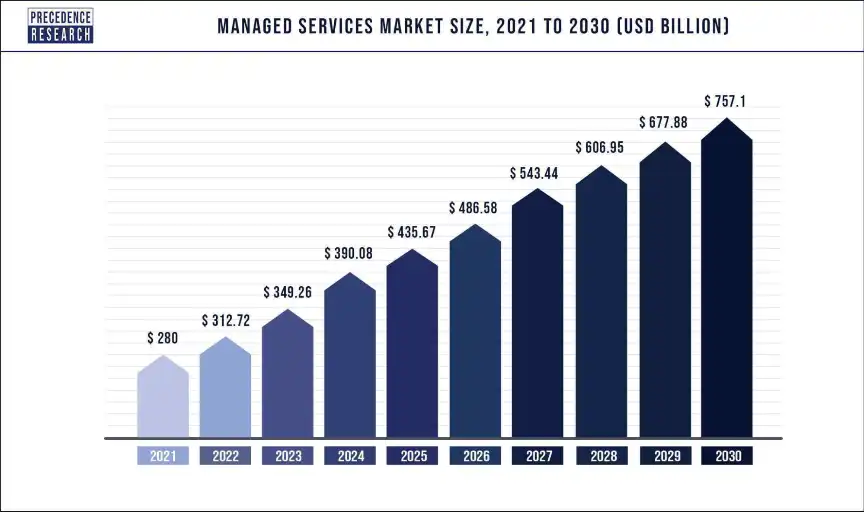 Source: Precedence Research
Managed IT services can help with everything from:
Remote and on-site IT support services
Cloud computing
Cybersecurity
Software development
Network support
IT consulting
And more
And while there are IT outsourcing pros and cons that exist, this can all be avoided by choosing the right managed service provider (MSP). Check out these additional resources to learn more about what to look for in your MSP – as well as some of the benefits of infrastructure outsourcing.

Key Benefits of IT Outsourcing Services To Know About
Over 92% of G2000 companies now outsource their tech operations as a way to streamline business processes and save time and money.
Let's take a closer look at some of the benefits of IT outsourcing, followed by some IT outsourcing pros and cons to gain a better understanding.
1. Expertise and Experience
One of the primary advantages of outsourcing IT services is that you gain access to a team of experts with a wealth of experience that isn't present within your internal team.
IT service providers are typically staffed with professionals who are skilled in a range of technological areas such as cybersecurity, network design, and cloud computing, and have experience working with a variety of clients across different industries.
By outsourcing IT services, you can leverage this expertise to help your business strategize more effectively, resolve issues faster, and spread knowledge across your business.
2. Cost Savings
Outsourcing IT services is a more cost-effective solution, as IT service providers can often offer their services at a lower cost than hiring and training an in-house team.
This is particularly true for small and medium-sized businesses that may not have the budget to support a large IT department. Outsourcing IT services can also help businesses save on:
Employee training
Infrastructure and equipment costs
Hardware and software upgrades
Reduced downtime costs
And more
Tired of Overspending on Your IT?
Experience the Cost Savings Benefits of IT Outsourcing Services with InfoTECH Solutions
Contact Us Now
3. Flexibility
Another benefit of outsourcing IT services is the flexibility it provides. IT service providers can often tailor their services to meet the specific needs of their clients.
This means that you can scale up or down your IT services as needed, depending on your business's changing needs.
This flexibility can be particularly beneficial if your business ever experiences fluctuations in demand or is going through a period of growth.
4. Increased Focus on Core Business Activities
By outsourcing IT services, you can focus on your core activities and leave the IT tasks to the experts.
This can help your business to be more productive and efficient, as you and your team won't be distracted by IT issues and can instead concentrate on their primary business goals.
Outsourcing IT services can also help you to control IT costs by avoiding having to divert internal resources to time-consuming IT tasks.
5. Improved Security and Data Protection
Data security is a critical concern for businesses of all sizes – so much so that 60 percent of SMBs go out of business within six months or sooner from falling victim to a cyber attack.
And it's not only your responsibility to protect your own data and competitive information as a business owner. You're also responsible for sensitive client data, credit card numbers, and more.
IT service providers offer access to the latest security technologies and expertise, which helps small companies like yours who may not be able to afford these investments internally stay protected from cyber threats.
6. Improved Compliance
Many businesses are subject to abide by security and compliance regulations that govern their IT practices. IT service providers are often well-versed in these regulations and can help you to ensure that you are compliant with all applicable rules and guidelines.
This can be particularly important if you're a part of a highly regulated industry, such as healthcare or finance.
Are There Any Disadvantages of IT Outsourcing?
While there are many benefits of outsourcing IT services, it's crucial to be equally aware of the IT outsourcing advantages and disadvantages, and how to avoid things going wrong by choosing the right MSP.
Among some of the troubles you can run into in choosing the wrong MSP are:
Unpredictable costs
Inconsistent service levels
Security risks
Lack of scalability
Poor communication
If you're considering outsourcing your IT services, be sure to choose a provider with a proven track record of success and a strong reputation in the industry. With the right partner, outsourcing your IT services can be a game-changer for your business.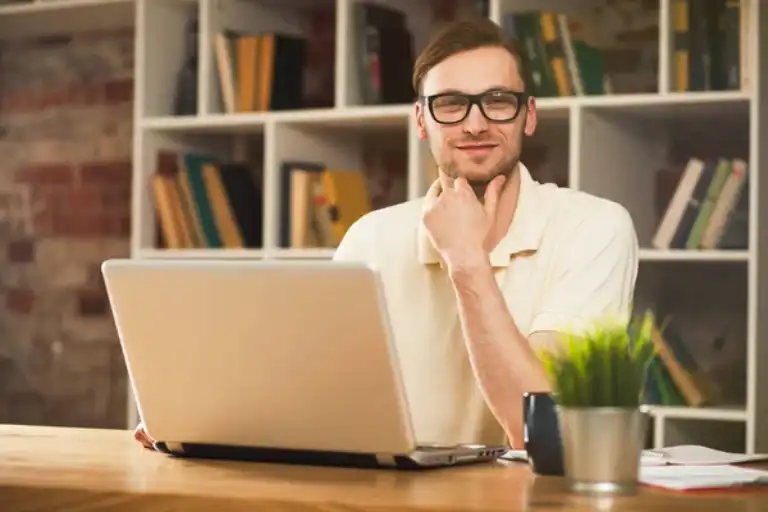 Maximize the Benefits of IT Outsourcing with InfoTECH Solutions
In exploring IT outsourcing advantages and disadvantages, it's clear that in choosing the right MSP,  you can reduce costs, improve efficiency, and focus on your core business activities.
With 24/7/365 support monitoring and over 18+ years of industry experience, InfoTECH Solutions is your trusted partner for business growth and scalability when it comes to managed IT services.
Learn how we can help you lead the playing field and gain a competitive advantage in your industry with outsourced IT services today.