The concept of the Chief Information Officer (CIO) is nothing new – it has become an indispensable resource for business owners looking to stay innovative in the past decade.
A new player, however, has emerged on the scene, offering a fresh perspective and a unique blend of expertise: the Virtual Chief Information Officer (vCIO).
As the co-founder of InfoTECH, Brian Leger, mentions, "Having a vCIO is like having an expert at your beck and call to help journey through the complex world of technology strategies, without the hefty price tag of a full-time executive."
What is a vCIO? If you're asking yourself this question, you're not alone.
In this guide, we'll delve into what exactly a virtual CIO is, and more importantly, why your business needs one to not only survive–but thrive in today's competitive landscape.
What is a Virtual CIO (vCIO)? Understanding the Role
What is a virtual CIO? At its core, a vCIO is a strategic information technology advisor who operates remotely, providing expert guidance and direction for business owners without the need for a full-time, in-house CIO.
Unlike a traditional CIO, virtual CIOs don't require a physical presence in your office–they operate 100% remotely. This makes it a cost-effective solution for businesses that may not have the resources for a dedicated executive. So, what does a virtual CIO do then?
Through ongoing collaboration and consultation, a virtual CIO helps align your technology strategy with your business objectives, ensuring optimal efficiency, cybersecurity, and innovative initiatives. What is a virtual CIO's role in propelling your business forward? Ask our experts today!
Let Your Business Excel with our 17+ Years of vCIO Insight
Contact Us Now
The Responsibilities of a vCIO: An Overview
With their ability to provide expert guidance, streamline operations, and enhance cybersecurity measures, vCIO services have become a sought-after resource for businesses of all sizes, offering a cost-effective way to harness the power of technology for sustainable growth.
What does a virtual CIO do? Here's a quick rundown of their key responsibilities:
Planning for Technology Strategy: Working closely with your executive team, a vCIO crafts a detailed technological pathway that resonates with your company's objectives and expansion desires. Currently, over 92% of G2000 entities delegate their tech planning and operational tasks.
Assessment and Management of Risk: The vCIO conducts an analysis of potential cyber threats and weak spots, formulating strong measures to protect your online assets and confidential data.
Optimization of Resources: Through an assessment of your current tech infrastructure, a vCIO pinpoints areas for resource enhancement and suggests economically viable solutions that heighten efficiency.
Management of Vendors: The vCIO takes charge of liaising and overseeing various tech suppliers, guaranteeing smooth integration and dependable service provision.
Get Expert Virtual CIO Services with InfoTECH
Management of Cloud Infrastructure: vCIOs lead the transition to cloud-centered solutions, augmenting the flexibility, reach, and teamwork within your staff.
Planning for Disaster Recovery: Strategies are devised and executed by a vCIO to maintain ongoing business operations in the event of unforeseen IT interruptions or data compromises.
Training and Adoption of Technology: Your employees are guided towards the acceptance of new tech via instructional courses by the vCIO, nurturing a technology-savvy environment that enhances work output.
Compliance with Regulations: By keeping abreast of fluctuating industry rules, the vCIO ensures that your tech methodologies remain in line with legal requirements, steering clear of potential legal complications.
Future-Readiness: A vCIO, by keeping up with cutting-edge technologies, aids in recognizing prospects for creativity, positioning your enterprise at the forefront of innovation.
The market for vCIO services is projected to grow at a compound annual growth rate (CAGR) of 9.1% from 2023 to 2030.
What are the key benefits of outsourcing your vCIO services and IT management? Check out these additional resources to learn more:
Weighing Out the Pros and Cons of vCIO Services
Virtual CIO offerings deliver a multitude of benefits to companies, yet, like all solutions, they are accompanied by specific considerations.
On the favorable end, virtual CIO services provide advantages such as:
Expertise specialization without the substantial cost of a permanent executive.
Customized tech plans that enhance resource utilization and boost efficiency.
Insights into evolving trends, empowering your company to foster innovation and maintain a competitive stance.
Guaranteed operational robustness during IT disturbances with support for continuity.
Enhanced staff consciousness via organized training sessions and the dissemination of knowledge.
And more
Nevertheless, it's vital to recognize the potential shortcomings of virtual CIO offerings. The remote nature may necessitate additional effort in communication and teamwork. Additionally, as virtual CIO providers may serve numerous clients, the degree of individualized care might fluctuate.
A thorough evaluation of your company's IT requirements and the extent of interaction desired will assist in ascertaining if a virtual CIO service aligns with your business needs.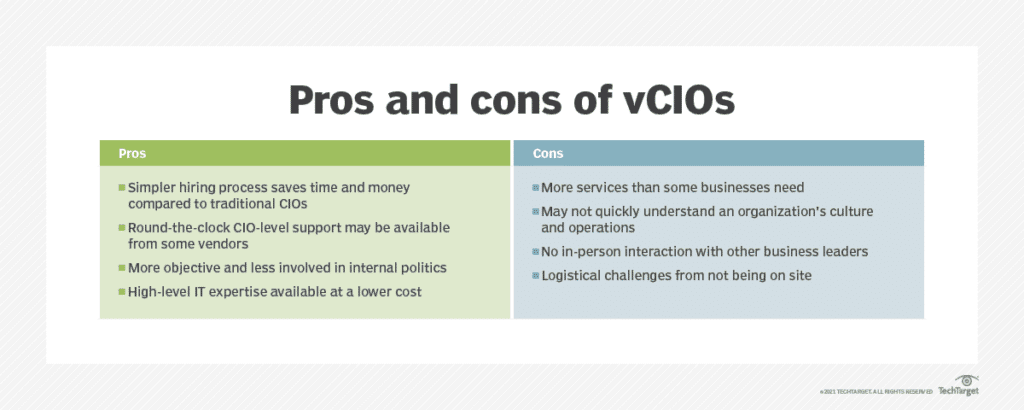 Image Credit: Tech Target
Why Choose InfoTECH Solutions?
So, what is a vCIO? In a landscape defined by rapid technological advancements, the role of a Virtual Chief Information Officer (vCIO) emerges as a pivotal force, capable of driving businesses to new heights of efficiency, innovation, and strategic alignment.
With their cost-effective expertise, tailored technology roadmaps, and vigilant cybersecurity measures, vCIOs empower small to medium-sized businesses to navigate the complexities of the digital realm with confidence.
And choosing InfoTECH Solutions for vCIO services is a strategic decision that promises unparalleled expertise, innovation, and partnership – learn more about how we can help with our 17+ years of tech insight. Contact us now.