As sophisticated tech becomes increasingly ubiquitous, many organizations are struggling to keep up. By 2027, the global market value for outsourced IT services is projected to crack $557 billion—a compound annual growth rate (CGAR) of 12.6% from $243.33 billion in 2021.
And it's no wonder. The rise in demand for outsourced services correlates with the rate and complexity of emerging technologies like big data, cloud computing, and AI. 
Implementing and maintaining these systems in-house has become too difficult, too time-consuming, and too expensive for companies to sustain.
Luckily, partnering with an outsourced services provider lets you leverage the full power of tech while focusing on your core business activities. But one question still remains: Should you choose managed services or professional services? 
In this article, we'll take an in-depth look at managed services vs. professional services and discuss what each entails to help you achieve your business goals and overcome specific challenges.
Professional IT Services
Professional IT service providers carry out isolated projects with a clear beginning and end. 
They're designed to help you overcome specific challenges and remedy particular pain points. In most cases, the goal is either to scale operations or modernize outdated systems.
Let's look at a few examples of professional IT services.
Deployment
Even the best hardware grows worn out or obsolete over time. In order to reinvigorate IT infrastructure, organizations typically undertake a hardware deployment every three to five years. 
Software deployments are also common. These projects are easier than their hardware counterparts however, since software can be remotely patched and updated.
Nevertheless, deployments are generally a challenge—especially for in-house teams who already have a floor-to-ceiling to-do list. In contrast, professional IT services can provide the necessary experience and expertise to make the process fast and seamless.
Interested in learning more about managed services vs. professional services? Check out these blogs:
Cloud Migration
A partial or complete cloud migration is an essential step in any organization's digital transformation. Unfortunately, the process is notorious for its many logistic and technical challenges, particularly for a small business running on a tight staff.
But the short-term inconvenience is outweighed by the long-term benefits; cloud services offer an affordable storage solution with better security and improved scalability.
As more and more businesses make the move, professional IT services are there to ensure it's smooth and error-free.
Advanced Troubleshooting
Many small to medium-sized businesses (SMBs) choose to keep at least one IT professional on their payroll. It's a fast and reliable way to get technical support for an array of everyday issues. 
That said, larger troubleshooting projects often require entire teams with specialized knowledge and skill sets. Instead of side-lining your entire in-house team from their usual workload, this is a great opportunity to bring in professional IT services.
IT Consulting
IT consulting services are an excellent option for organizations in search of new solutions to address business challenges or achieve business goals. 
If you've ever experienced the frustration of a stunted, delayed, or altogether failed IT project, then partnering with an experienced IT consultant can provide you with the roadmap you need.
Managed IT Services
Like professional services, managed services include an array of different offerings. But unlike professional services, managed services are intended to tackle your organization's day-to-day IT needs.
The goal is to provide maintenance and support across a variety of areas, from endpoint devices to data center systems. A managed services provider (MSP) will typically offer customized solutions packages to meet your unique challenges. Let's look at what a managed service offering might entail.
Helpdesk Support 
Some large enterprises prefer to keep an in-house team to tackle day-to-day technical issues. But for many SMBs, it can be an unnecessary expense despite being a fundamental need. 
Whether it's troubleshooting technical issues, staying on top of updates and patches, or remediating viruses, helpdesk services will keep your operations running smoothly and with as few interruptions as possible.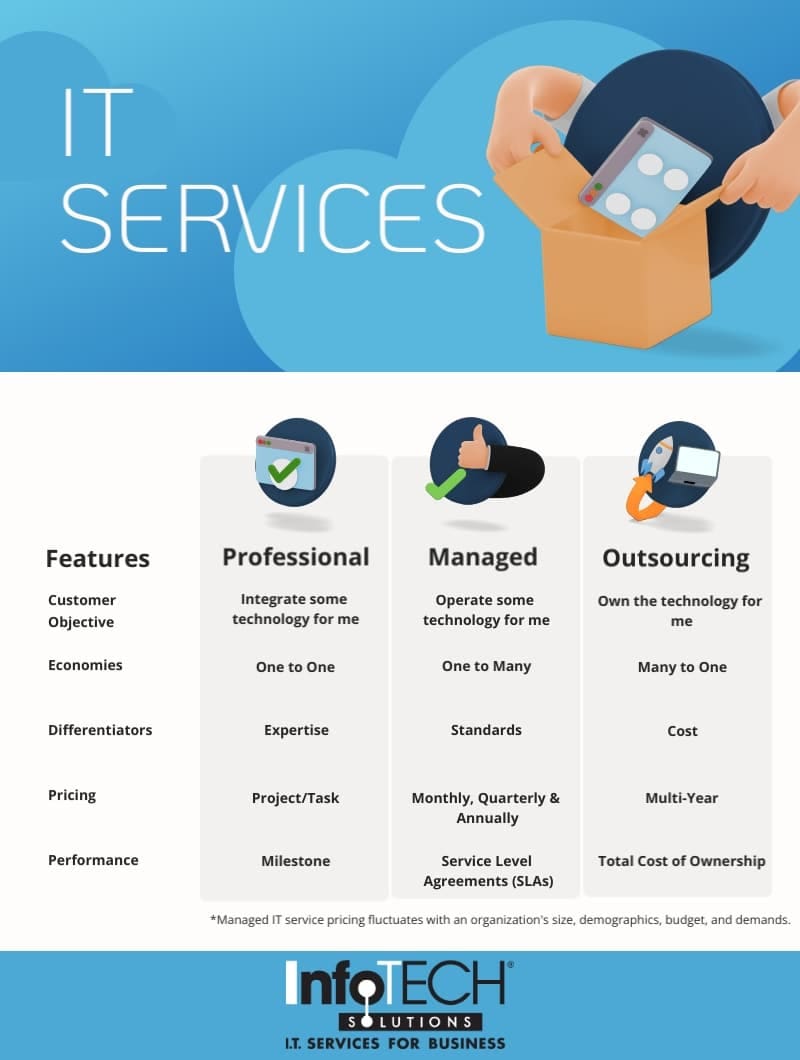 24/7 Network Monitoring
Gartner reports that the average cost of downtime is $5,600 per minute. This number can vary dramatically based on the size and complexity of your IT infrastructure, reaching up to $1 million.
Round-the-clock monitoring lets you keep eyes on your network, even during off-hours, weekends, and holidays, to prevent downtime. Compared to in-house network monitoring, an MSP is a cost-effective solution.
Cybersecurity Maintenance
Cybersecurity maintenance is a happy byproduct of 24/7 network monitoring. By maintaining round-the-clock surveillance, it's easier to detect security risks and cyber threats. 
In the event of an attack, an active defense can be quickly mounted to reduce the chance of expensive downtime or a serious data breach.
In addition to cybersecurity maintenance provided by an MSP, you can also opt for dedicated cybersecurity. This is offered by what's known as a managed security services provider (MSSP).
Data Backup and Disaster Recovery (DR)
Data backup and disaster recovery (DR) are essential elements of your organization's business continuity plan (BCP). And it's more important than ever: In 2021, the average ransomware payout was $812,000, up from $170,000 the year before.
An MSP can make that happen with routine backups of critical corporate data. Not only will it prevent accidental data loss, it can stop costly cyber attacks.
Employee Onboarding
Especially during times of rapid growth, employee onboarding can be tedious and time-consuming. An MSP can help facilitate the process by assisting new recruits set up devices, software, and logins.
They can also manage access control, granting or restricting privileges based on a person's role in the company. And, of course, they'll ensure that any accounts belonging to former employees will be locked or deleted.
Managed Services vs. Professional Services: What's the Difference?
Broadly speaking, professional IT services are a one-off IT solution while managed services provide continuous IT solutions. 
Though the former is characterized by a single project addressing a specific challenge, the duration can vary from a few days to several months to complete. Moreover, the scope of a project can either be narrow or comprehensive, including any of the following:
Planning

Strategy

Design

Implementation

Adoption

Training
If necessary, work can be extended to include ongoing support. 
This brings us to managed services. Managed IT services offer businesses on-demand computer support and solutions. It's a dependable approach to tackling the most common technology issues faced by businesses while maintaining network health and integrity.
Managed Services vs. Professional Services: Which is Right for You?
Find the right managed services offering for your business with InfoTech.
Learn More
Get the Right IT Services for Your Business With InfoTECH
Technology has become increasingly important in today's business world. It's no wonder that the demand for outsourced services has been on the rise, from application service solutions to hardware deployment to helpdesk support.
Now that you understand the differences between managed and professional IT services, you can decide which is best for your business. By partnering with InfoTECH Solutions, one of Louisiana's premier managed services providers (MSPs), you can:
Leverage leading IT expertise and experience

Reduce your IT costs

Save time

Decrease risk

Free up your in-house staff for more important work
Let our IT experts help bring clarity to the managed services vs. professional services debate. Contact us today to learn more about our managed service offering.