You know that technology is critical to your business operations. But what happens when something goes wrong? Do you have the time, knowledge, and internal resources to fix it?  That's where the benefits of managed IT services come in.
A reliable managed IT provider can take care of all your technology needs, from minor repairs to major projects.
In this blog, we'll walk you through some of the key benefits of managed IT services in streamlining your day to day business operations so you can better understand their value.
Keep reading to learn more about the importance of managed IT services in today's digital age!
Importance of Managed IT Services
The Global Managed Services Market is expected to reach USD $680.08 billion by 2030, with more businesses like yours seeking to leverage the different managed services advantages every day.
Here are just a few of the benefits of managed IT services for businesses like yours:
Reclaim focus on core business goals instead of worrying about time-consuming technical issues
Access a team of experts who can provide support services and advice
Reduce risks of data loss and improve cyber security posture with remote monitoring and management and disaster recovery solutions
Managed IT services can scale up or down depending on your needs, leading to cost effectiveness as you only pay for what you need
If you're looking for ways to improve your business operation, InfoTECH's managed IT services should be at the top of your list.
Gain a Competitive Edge With Managed IT
Contact us today to learn more about how we can help.
Get In Touch
Managed IT Services Advantages: A Closer Look
In exploring the importance of managed IT services, the following benefits cannot be overlooked.
1. Cost Savings
Managed IT services offer small to mid-sized businesses like yours a cost effective way to optimize your technology infrastructure and operations.
This is because they eliminate the costs incurred from costly network repairs or systems installs that would otherwise be required when using traditional, in-house IT strategies.
By outsourcing core IT functions, your business will be able to reduce unexpected overhead costs, cut operational costs, and eliminate the need for staff members.
Managed IT services can be the perfect solution for reducing overall business costs without compromising on quality or reliability.
2. Improved Cyber Security Posture
Small businesses are the target of 43% of all cyber attacks. These attacks can have devastating effects on your business, including both financial and reputational damage.
Luckily, managed IT services offer your organization a comprehensive turnkey solution to improving your cybersecurity posture.
Cyber security is becoming so important that the global cyber security market was valued at USD 202.72 billion in 2022 and is projected to expand at a compound annual growth rate (CAGR) of 12.3% from 2023 to 2030.
By optimizing the IT infrastructure and providing reliable resources, your business's cybersecurity vulnerabilities can be easily identified and addressed with minimal disruption to your operations.
Managed IT services' benefits can also be found in the protective measures they offer such as:
Regular system backup
Patch management
Real-time security monitoring
Proactive malware scans
Disaster recovery planning
Business continuity
With an experienced team of professionals handling these processes for you, you can rest assured that your data is safe from risks of external attacks or internal mishandling.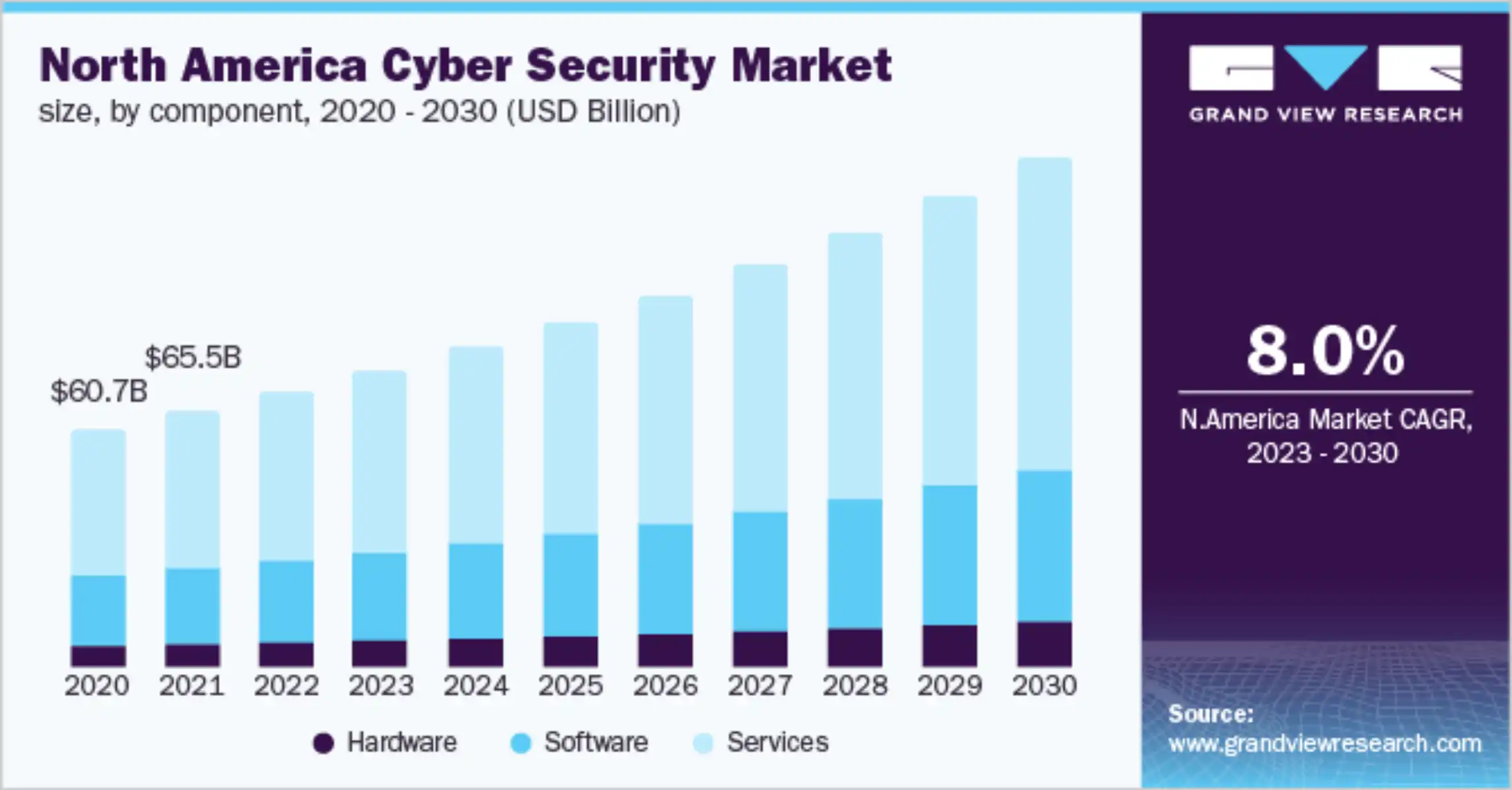 Image Credit: Grandview Research 
3. Minimal Downtime
In addition to any legal fees, fines, or penalties, 44% of firms report hourly downtime costs exceeding $1 million to over $5 million.
In exploring the different managed IT services advantages, one of the most important is their ability to help you ensure business continuity with advanced technology solutions and processes including:
24/7 system monitoring
Regular server maintenance and backups
Disaster recovery planning
Software updates
And more
By leveraging the different managed services advantages offered through these technologies, you will be able to quickly identify when something isn't right and take appropriate action before disruptions occur.
4. Access to Industry-Leading Technologies
As your business grows, your information technology needs evolve with it.
One of the key managed IT benefits to consider is that they provide access to a broad range of industry leading technologies, which can be extremely beneficial for small business owners.
Such technologies are often too expensive or too complex for businesses like yours to purchase and maintain on your own. With managed IT services, however, these resources become available without upfront costs and without necessary technical information.
Check out these additional resources to learn more about the managed IT services advantages.
5. Growth and Scalability
Similar to the point mentioned above, managed IT services provide access to scalable solutions and fixed monthly plans which can be adjusted based on the advancements in technology and the growth of your business.
In this way, these services serve as an investment that will help your business stay agile, competitive and operational in today's rapidly changing digital world.
6. Expert Insight
In analyzing the different managed services advantages, they ensure that you are supported with technically skilled personnel with the know-how in providing proactive and responsive support, allowing you to cultivate an environment where productivity and efficiency thrive.
These managed IT experts also act as a cost-effective strategic partner for business growth, helping you make better decisions regarding the IT design, implementation or maintenance of your organization without having to worry about unforeseeable risks or complexity.
Why Choose Managed IT?
Whether it's freeing up time for your in-house team or helping you leverage industry leading technologies and cloud computing solutions, it's clear that you can't go wrong in making the decision to leverage managed IT services' benefits.
With over 17+ years in business and an A+ accreditation with the BBB, InfoTECH has the resources and expertise to help your business succeed.
To learn more about our managed IT benefits and how we can help maximize your capital expenditures, book a free consultation with us today!